It's often said that the best way to achieve your goals is to visualise success. But what if visualisation is your goal? Then get someone clever to do it for you. That's what we did: hired a new Data Visualisation Intern.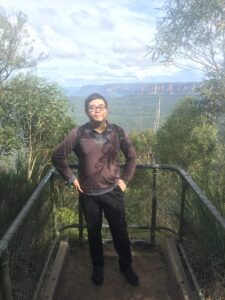 Henry Sun has joined Research Data Support for the summer to work on our Data Dashboard project. Henry is about to start his 4th year as an undergraduate, studying electronics and computer science. That's right, he's doing 2 degrees: our very own Henry Beauclerc. Henry also came to us with previous experience of laboratory research. Impressed? Us too, very.
Just how Henry manages to find time for anything else is a little baffling. But find it he does and with it, among other things, he watches superhero movies – Marvel for preference, obviously. And he cooks: Henry tells us that he already has special skills in Asian, especially Chinese cuisine, and now he's learning how to bake. You can imagine how popular he's going to be when his colleagues find out.
This internship is Henry's first time in a professional services role and that role is to develop a dashboard that will enable us to monitor and to understand all the Open Research activity that goes on at the University of Edinburgh. Primarily, that means tracking down a range of internal and external data sources and figuring out a way to tie them all together and visualise them. And if that's not enough, we're hoping that Henry will be able to predict the future, or at least come up with some ideas for ongoing development of the dashboard. Exciting stuff, right? Right.
And what do we plan to do with this shiny new box of numbers? Management teams will want have a look, of course. We in Research Data Support are expecting to get a clearer and more detailed picture of the data management situation across the University: good practice, bad practice, and no practice at all. Knowing all that, especially the last two, will enable us to focus on the areas where we're needed most. It will also be useful for our three Colleges – Arts, Humanities & Social Sciences, Science & Engineering, and Medicine & Veterinary Medicine – to see what kind of Open Research their researchers are producing. And speaking of Open Research, we're aiming to make at least some of this data – headline numbers, etc. – available to the public via our website. It will be nice to show off all the hard work that's going on in Open Research at Edinburgh as well as all the hard work Henry is doing for us.
Simon Smith
Research Data Support Officer
Library & University Collections