It's around the time where many of our students will be planning and beginning the research for their dissertations. If you're at the start of this journey and looking for a bit of help we've got three new things which we hope will help you on your way.
1: Llm Dissertation : How to Maximise Marks for Your Practice Focused Dissertation by Suzanne Reece.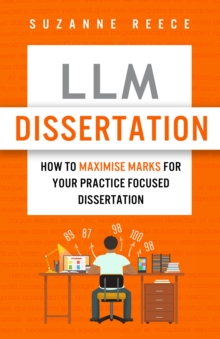 This book is brand new to the library and while it is focused on specifically LLM dissertations, it contains useful information about how to plan for any large research project in Law. Chapters include helping choose your topic, planning and timing, and #SurvivalTips. Reece identifies top tips and common mistakes in students' work and suggests activities to help you explore your research thoroughly. As such it's more of a handbook than a set of rules to follow, but we think it will help answer many of the frequently asked questions that students have early in the process.
We have this ebook on an unlimited user license, which means that there's no waiting and no queue to take it out. Find access information via the DiscoverEd record for this item.
2: Dissertation Festival (Guide and Festival Bag)
You may have seen that Library Services ran our second Dissertation Festival for the year in March 2021. While the festival events don't exactly line up with Law Dissertation timetable, the wonderful thing about hosting the festival online is that we can keep the resources around for you to access just when you need them most!
Are you looking for some inspiration for which of the library collections can help you with your research?
Do you need some support in constructing your search strategy, or managing your results?
Would you like some tips from students who've previously completed their dissertation work?
The Dissertation Festival subject guide has all this and much more available with the click of a button! Recordings are available for our live sessions and slides have been added.  Plus you can access my favourite part, the festival tote bag (not a real bag) via the link on the front page. We can't furnish you with free pens and post-its for the next academic year, but we do have an image of a penguin and a bagpiper from our collection that you can use as your Zoom background…
3: A twitter thread on #EdLitSearchTips
Our Academic Support Librarian colleagues have been compiling a list of tips that will help you get started with literature searching. Although you may have used DiscoverEd or our Library Databases to find materials for your assignments before, click through to this series of tweets to get advice from information professionals whose business it is to help you find information!
If you're struggling to get started with your research, why not arrange a one-to-one with one of the Law Librarians to discuss your research question and which direction you'd like to go? We can help suggest resources or even just provide advice on the best way to go about searching. Look out for the next available 'Literature search clinic' appointment using the MyEd Booking System and find the option for 'Law'. Further details on how to book can be found on this earlier post on our blog, or just email law.librarian@ed.ac.uk.