Open Repositories 2014
Posted on June 18, 2014 | in Development, Library & University Collections, Uncategorized | by cknowles
Last week I travelled to Helsinki, Finland, for the Open Repositories 2014 Conference, which had more than 450 attendees. The five days whizzed by with so much going on and my nervous anticipation of having to present on Wednesday morning.  The week kicked-off with a DSpace meeting, we host multiple DSpace repositories for the Scottish Digital Library Consortium, as well as repositories for the University of Edinburgh, including the admin site for our new collections online service http://collections.ed.ac.uk. It was therefore very interesting to hear of the latest news from the DSpace mothership DuraSpace.
The week was full of lively debate from the Open Keynote on Tuesday by Erin McKiernan, https://twitter.com/emckiernan13, a physiologist and neuroscientist based in Mexico, who is committed to only publishing in open access journals. Through to the individual repository user groups on Thursday and Friday, with discussions carried on into the evenings social events. Adam Field, University of Southampton, produced a daily Wordle to highlight the most popular topics on the #or2014 Twitter hashtag, showing the diversity of interests.
The final Wordle of the whole conference:
On Wednesday, Kim Shepherd, from the University of Auckland Libraries and Learning Services, and I presented a paper on the use of existing repository technology for cultural heritage and special collections. This paper is available online at http://or2014.helsinki.fi/?page_id=985 (Parallel Session 4A) if you wish to see it, along with all the other main track papers.
The Congress Hall in the Paasitorni, the former Helsinki Workers' House where the conference was held: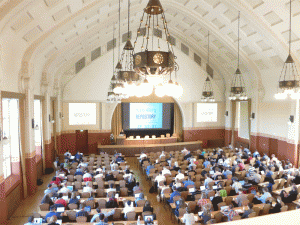 Kim and I also took part in the Developer Challenge in the 'Fill My List' team along with colleagues from the University of Southampton, where we wrote an application to populate drop-down boxes in forms with text and linked authority urls. The source code, list of team members and presentation is available at https://github.com/gobfrey/OR2014-chalege.  We were chosen as one of the winning entries and hope to be able to develop this application into a service and integrate it with more  systems.
The other members of the Fill My List Team:
Thank you to all the organisers and hosts of Open Repositories 2014 for an inspiring conference.
Claire Knowles, Library Digital Development Manager
@cgknowles