On Saturday, 22 August, the School of Scottish Studies Archives (SSSA) will be celebrated in a day-long online festival event hosted by the Celtic and Scottish Studies department. 
Curated by Mike Vass, Traditional Artist in Residence, The School of Scottish Studies Archives In Light festival will focus on the sound, film and photographic collections of SSSA and will feature new work – inspired by archive recordings – by Scottish musicians Mhairi Hall and Rachel Newton. In addition to music and song, the programme features conversations and Archives Curator, Cathlin Macaulay, along with Ella Leith and Chris Wright, will be participating in the panel discussion 'What do we mean by oral tradition?' hosted by Professor Gary West.
Our photographic and film collections are also set to feature. There will be with a film of Storytelling with BSL translations of audio recordings from the late Stanley Robertson, Traveller, storyteller, balladeer and piper from Aberdeen. There is also an opportunity to see a fieldwork film made in South Uist in 1970 which shows the tradition of waulking the cloth (SA1970.01). 
There will also be two visual displays from our Photographic Archive, featuring images from the collections of Werner Kissling (1895-1988) , Robert Atkinson (1915-1995) and SSSA photographer and curator Ian MacKenzie (1959-2009).  The presentations will be accompanied by archive recordings from The Scottish Tradition Series which have been produced in collaboration with Greentrax Recording Limited.
Finally, the festival will conclude with an evening concert of music, storytelling and dance from a stellar cast of performers from both sides of the Atlantic. The evening concert will be hosted by Professor Gary West, Chair in Scottish Ethnology, and features performances from musicians Julie Fowlis & Éamon Doorley; BBC Radio Scotland Young Traditional Musician of the Year Ali Levack; Steve Byrne, Margaret Stewart, Fulbright-Scotland Visiting Professor Margaret McAllister, acclaimed author and storyteller Ian Stephen. There will also be special transatlantic guests: singer-songwriter Aoife O'Donovan, fiddler Alasdair Fraser and dancer and musician Nic Gareiss as well as a performance from Glasgow-based Chinese singer and storyteller Fong Liu.
School of Scottish Studies Archives Traditional Artist in Residence Mike Vass said, "It has been a privilege curating this online event – many of the artists have a long association with the Archives and have drawn inspiration from it. Hosting this event online allows us to shine a light on the creativity that springs from this amazing resource, and on the wealth of material contained within it. We look forward to sharing this fantastic line-up, bringing together different audiences, and making connections through our shared cultural heritage."
Dr Neill Martin, Head of Celtic & Scottish Studies said, "We conceived this event amid the bewildering early stages of lockdown, when it seemed that the music stopped and all around became still and eerily quiet. This is our response; an assertion of the power of music, song and the traditional arts of all kinds to create and sustain community in times of adversity. We hope you will join us."
Daryl Green FSA, Head of Special Collections said, "The School of Scottish Studies Archive continues to amaze me, both in the content that was captured by pioneering ethnologists, but also in the empathy of those who were doing the collecting. Although new to the University, I've been exposed to pieces of the collection throughout lockdown which have moved me deeply: seeing the documentary evidence of traditional crafts long passed, hearing the conversation and stories, the multitude of music and accents and real connection to people and place all create this swell of emotion and sense of being. It is no surprise that this collection has inspired what will surely be a rich and powerful event."
This special online event is a taster of what is to come in 2021 as we  celebrate our Platinum Jubilee. Also coinciding with the 70th anniversary, the department of Celtic and Scottish Studies will launch a new Master's programme for traditional artists and is the first of its kind aimed at musicians, dancers and storytellers.
The School of Scottish Studies Archives – In Light begins at 2pm, on Saturday 22 and will be streamed on the Celtic & Scottish Studies YouTube channel:
https://www.youtube.com/CeltScotVideos
and their Facebook page:
https://www.facebook.com/traditionalartsperformance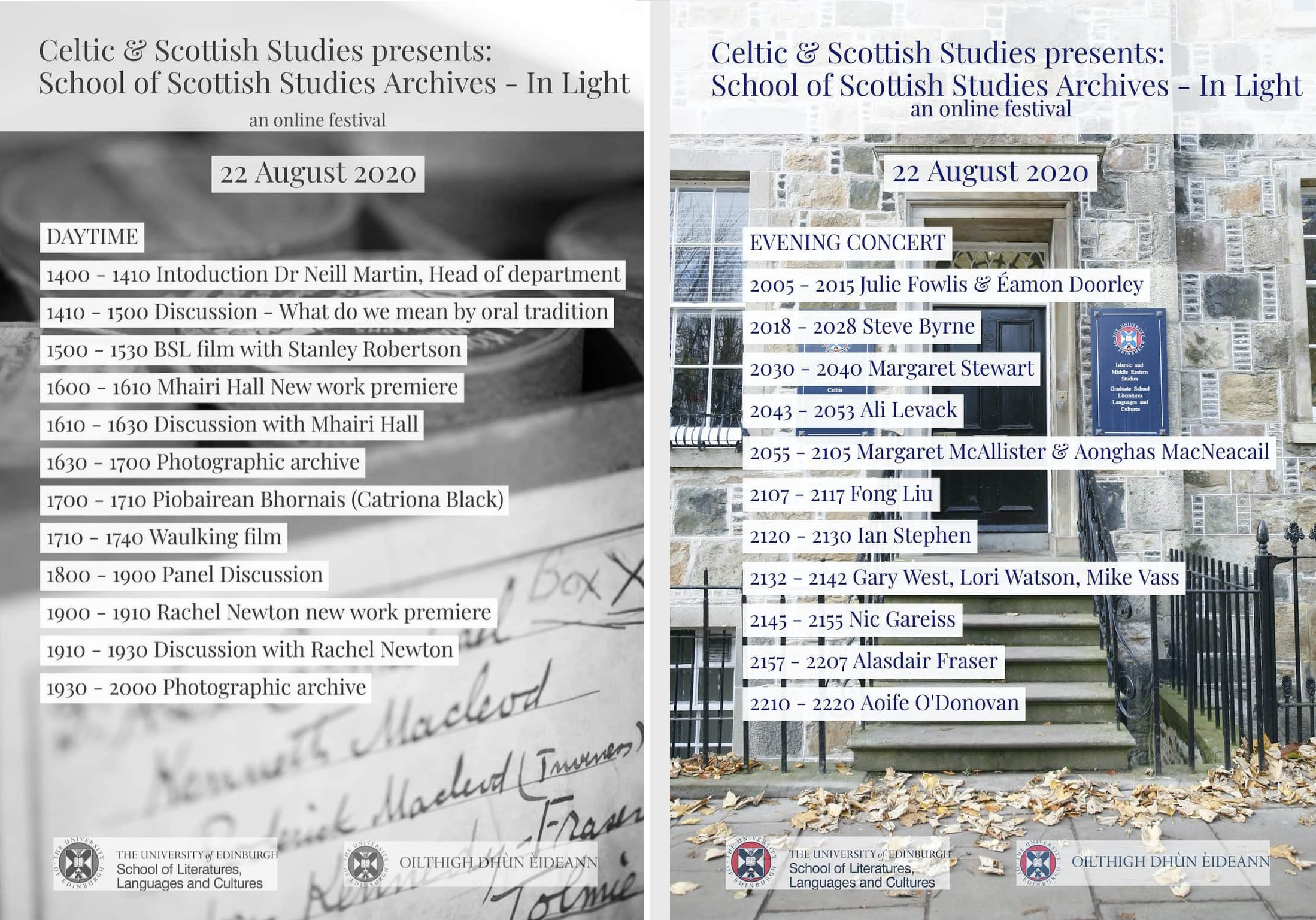 For more information about SSSA collections you can visit our website:
If you can't make the online festivities you can still find material from SSSA on Tobar an Dualchais. There are almost 36,000 tracks from our collections which are available to listen to online:
Find out more about Celtic & Scottish Studies on their website:
: : : : : : : : : : : :
Update:
Some of the events of SSSA in Light will remain available for a short time to view on the CeltScotVideos channel on YouTube.